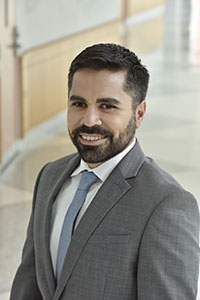 The politicians currently determining the future of the American health care system should stop bickering and talk to Dr. Sezgin Ayabakan, Assistant Professor of MIS at Temple University's Fox School of Business.
Ayabakan and three colleagues recently completed a study on the impact of health information sharing on preventing duplicate lab and radiology testing, perhaps by joining a Hospital Information Exchange (HIE). Addressing this prevalent problem would not only save money, time and effort but would also improve the patient experience.
These tests can cost thousands of dollars. Suppose someone goes into the emergency room and needs an MRI. The patient might have had an MRI a couple of weeks ago but the doctors don't have access to those images," Ayabakan says. "We also wanted to see if there was a business value for hospitals to join an HIE.
Ayabakan and co-authors Indrani Bardhan, Zhiqiang (Eric) Zheng and Kirk Kirksey drew their primary data from 68 hospitals in North Texas that that were part of the Dallas Fort Worth Hospital Council. They analyzed 39,600 Congestive Heart Failure (CHF) outpatient patient visits between 2005 – 2012.  They found that the number of duplicate radiology tests significantly decreased when hospitals shared data. Also of note was that duplication of radiology tests were reduced 32.8% more than the duplication of labratory tests. They attribute this finding to the differences in data standards implemented in sharing various types of test results.
The complete study will be published in the December 2017 issue of MIS Quarterly. Ayabakan and his research team were the first to look at the issue of duplicate testing and an earlier version of the paper won the best conference paper runner-up award at the 2014 International Conference on Information Systems (ICIS) in Auckland, New Zealand. Ayabakan estimates the cost of duplicate radiology tests was about $300 per CHF patient, about $1.12 million in total, and that's a low estimate as the researchers only looked at patients with CHF.
It was a very conservative approach, he says "We tried to control everything we could in our analysis."
This study is especially relevant now as health care service costs in the U.S. are twice that of similar services in countries that are members of the Organization for Economic Cooperation and Development, which includes most of the countries of Western Europe and Scandinavia, Japan, Israel, Australia and the U.K. A significant portion of the excessive waste can be pinned on duplicate testing. Ayabakan realizes in the past some hospitals have balked at joining an HIE. Some cite the cost. Others worry about losing patients to other health care providers. There's also the challenge of establishing universally accepted data standards so all HIE participants use the same coding system. Such a switch could increase a member hospital's initial investment.
Still, Ayabakan believes these changes are worth the effort. Health care spending currently takes up about 18.6 percent of the GDP. That percentage is expected to grow to 20 percent by 2025.
Promoting HIEs and common interoperability data standards across the spectrum can reduce the extent of duplicate testing and the associated cost to the U.S. healthcare system, he says. This is just one example. The estimates tell us that the total net savings from HIE could reach up to $77.8 billion annually.