While Michael Luckenbill '08 and Joshua Sandoe '16 are no longer students, they've never stopped learning. Luckenbill has handled business intelligence for a food service conglomerate, merged technologies for two music giants and created custom financial asset software. Sandoe has only worked for one company since graduation, but his job changes every six months, meaning he's already worked in the company's business technology solutions center, served as a global information security data analyst and tried his hand at project management.
It's a lot of change, but both alumni say Temple University's Fox School of Business prepared them for the professional challenges.
It's been a really good experience and it speaks to the education I received at Temple because we covered so many different areas," Sandoe said. "I've had business roles, more technical roles, a role as a data analyst; and I was prepared for all of it.
Luckenbill, whose graduation in the midst of the global financial crisis prompted some to advise against technology-related jobs, said taking core Management Information System classes and the accompanying lab work meant he was ready to jump into (almost) any role on day one.
I was prepared to be hands-on with the technology instead of being hands-off," Luckenbill said. "I used everything, my project management and database course, my software architecture course…
For the last seven years, Luckenbill has worked for LiquidHub, a Wayne-based digital customer engagement firm. As a technology manager in the custom application development division, Luckenbill works with multiple clients, most recently a financial asset firm.
"Even though things are different, custom application development doesn't change much," he said. "It's understanding the business model for that particular client and what they're trying to achieve."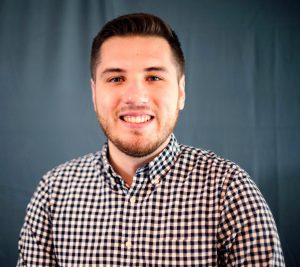 After graduating in December 2016, Sandoe joined biopharmaceutical giant Pfizer as a business technology rotational associate, meaning he'll hold four different positions in his first two years on the job.
"It's a very unique opportunity to see a lot of different worlds and meet a lot of smart people you may not have met if you were in one role from the beginning," Sandoe said. "A lot of people say you start to get really comfortable with a job at the six month point and that's when you pack up and enter next role. If someone's looking for a routine, every-day-doing-the-same-thing routine, this is not a route I'd suggest taking."
But it's worked for Sandoe.
"I always get very excited before I transfer to the next role," he said. "l've learned so much in a year and a half. The difference between then and now, my level of competency, it's night and day."