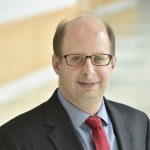 As the academic year draws to a close, we have much to celebrate. I am proud of our excellent students and their big win at this year's AIS Student Chapter Leadership Conference. A record five teams won for their entries in analytics, blockchain, and artificial intelligence. Also, congratulations to Professor Jeremy Shafer, who won AIS Chapter Adviser of the Year.
Our signature event with the Institute for Business and Information Technology (IBIT), the Eighteenth Annual Fox IT Awards, was a great success. The honorees were technology innovators and leaders John Turner of 3M, James Rhee of Ashley Stewart, and Dave Kotch of FMC Corporation.
IBIT also hosted the third annual National Cyber Analyst Challenge, with 10 teams competing for $25,000 in prizes.
I am also proud of our graduates. Read about recent grads Emily Schucker and Frank Tkachenko, who are using what they've learned while in the MIS program to start their careers. We also catch up with two experienced alumni – Michael Luckenbill and Joshua Sandoe – as they find themselves well prepared to take on new career challenges.
With regard to research, read about the launch of our MIS Visiting Scholars Series, which brings leading academics to Temple for a week-long residency. Also learn how Professor Jing Gong studies the impact of information technology on consumer behavior and finds the unexpected.