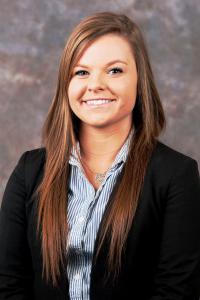 Emily Schucker '17 thought she'd major in biology when she began studying at Temple University.  Frank Tkachenko '18 planned to reinvent himself. Both found their paths thanks to the Fox School of Business.
Schucker enjoyed technology, but she couldn't see juggling her people-focused personality with solitary technical work. Then she learned about the Management Information Systems program.
"I went out on a limb with MIS and I'm very happy I did. I figured out what I wanted to do," said Schucker, a technical analyst for DecisivEdge, LLC, a Delaware-based business consulting and technology services company. "MIS gave me the perfect balance. I learned to coordinate different technologies and talk to clients. I could manage people and manage code."
At Temple, Tkachenko launched a fashion-focused Instagram and blog to hone his own style and to help others. That initiative, and his academics, helped land as a social media and content analyst at Adworthy, a Langhorne-based SaaS/Digital agency.
"The side hustle got me into non-traditional marketing, carving out a niche online and putting all you can into it in terms of social media and web design and email marketing," Tkachenko said. "My favorite MIS class looked at user interface and experiences. It taught me how to be critical of things and how to fix them. It applies to much more than just information systems. I never knew I'd be so interested in UI/UX and design thinking or that I'd use that at my new job."
Tkachenko expects to front-end manage client accounts and assist with back-end application development.
"For some people, advertising and marketing have a little bit of a negative connotation but the right ad at the right time to the right person gives someone something they're looking for and helps a company sell a product and it's a win-win," he said. "I think I'm most excited about starting and creating something of my own. I know I'll be working for myself one day."
Schucker's internship at the Children's Hospital of Philadelphia showed her she could mix medicine with technology. With her double major in MIS and Biology, she moved to DecisivEdge. Her first big client was a Maine-based health care company.
 "When they talk about what they do, I can understand both sides of the equation because I have familiarity with both areas," she said.
As project manager, Schucker designed the company's web app and portal, something she did as an undergraduate.
"I used a lot of tools I learned in class: how to interact with a client, how to get what I needed out of them, how to ask different questions and then how to manage the information I was given in a professional manner," she said. "I was also able to manage the business developers who worked on my team."
Schucker loves combining her passions.
"I love the technology and learning new things and that it's growing and there's more to know at all times," she said. "I love being able to interact with people and the challenge of sitting down with a client who has nothing to start with, just an idea, and bringing it to life, making their dream a reality."