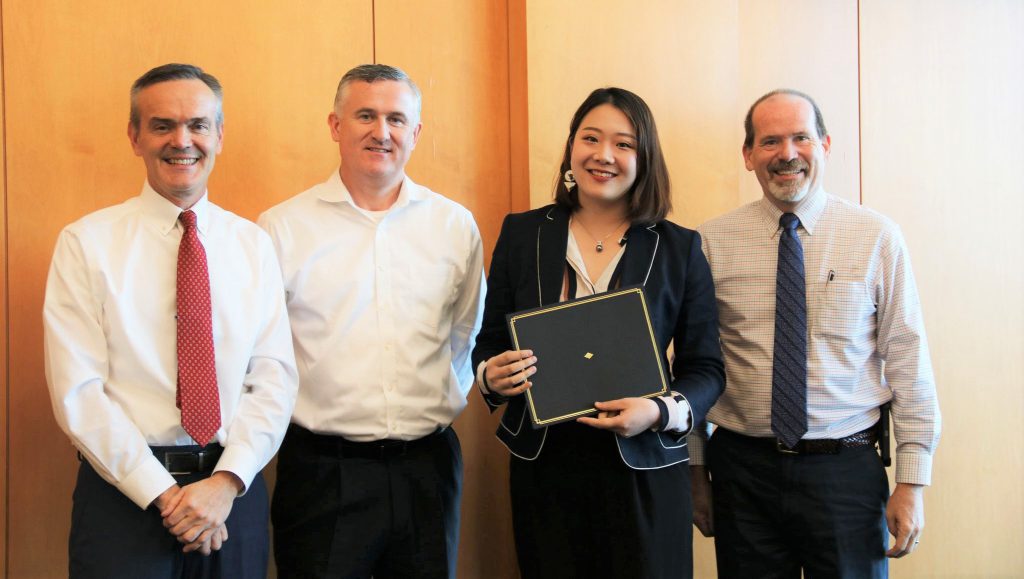 The 6th Annual NBCUniversal Temple University Analytics Challenge attracted more than 135 entries across six colleges, with the first-place finishers coming from Fox School of Business, Klein College of Media and Communications and the Tyler School of Art.
MIS students Jake Green and Rohit Bobby partnered with Klein's Sergio Aguilar to win the analysis category. Tyler School of Art student Xi (Cynthia) Cheng was the graphics category winner. The first-place finishers took home $2,500. There were also cash prizes for the second and third place winners and two honorable mentions in each category.
"All of the teams put a lot of work into their challenges," said MIS Assistant Professor Laurel Miller, who organized the event and serves as Director of the Institute for Business and Information Technology. Miller was also a mentor to the three-member analysis team winners and said she was impressed "by how meticulously they looked at each and every angle."
Teams could choose from three data sets to answer the following questions: The first, from competition sponsor NBCUniversal, asked how media companies align with esports; the second, from global biopharmaceutical company Alexion, sought to learn who the winners and losers were in healthcare funding and payments; the third, from pharmaceutical distributor AmerisourceBergen, questioned why pharmacies buy drugs from non-primary vendors.
This was the first year a sports-related challenge was offered and many teams were drawn to that. Both first place winners took on the NBCUniversal challenge. Graphics winner Cheng used images from Pac-Man and simple synthesizer sounds to look at the overlap between esports viewers and traditional sports fans in her four-minute video. The analysis trio reworked the question, team member Green said, to ask, "What can media companies and specifically, networks such as those powered by NBC sports group do to adapt to the esports audience and remain a leading delivery and engagement platform for sport entertainment?"
"This project taught me so many lessons that will be of value in my future professional endeavors," Green said. "It taught us to give more with less. It taught us to condense mountains of data and weeks' worth of information gathering into a four-minute pitch. We had the privilege of coming together as a team in pursuit of a common goal, despite our differences in educational background."
Aidan Doyle, Alexion's Director of Data and Analytic Platforms and a first-time competition judge, said he was impressed by the students and the challenges they tackled.
"When I went to college, you signed up for a class, walked into an amphitheater, the professor wrote on a board, you wrote it down and at the end you'd take a test," said Doyle. "What I see in the system in the US 30 years later, especially at Temple, is a collaborative effort that brings the best ideas together between all faculty while engaging students and industry… To me, it summed up why Temple and other institutions are the place to be."