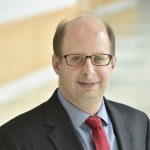 The Department of Management Information Systems continues to grow. I am pleased to introduce you to our two newest faculty, Anthony Vance and Aleksi Aaltonen. Dr. Vance's expertise is in behavioral aspects of cybersecurity, and Dr. Aaltonen's research focuses on digital innovation. We are excited to have them join our department.
Read about how we prepare our students for future success. Read about Bruce Fadem, Chair of the Fox IT Advisory Board. He discusses his role as founding Chair of the board and how that group of senior IT executives shapes our cutting-edge curriculum and provides guidance for our students.
Earlier this Fall the Institute for Business and Information Technology (IBIT) held its annual IT Career Fair, connecting over 250 student attendees with 40 companies. In November IBIT held the Sixth Annual Temple NBCUniversal Analytics Challenge. It was a great success, with over 350 students across the University competing for $12,000 in prizes.
These opportunities are a big part of what make our students successful. We profile Christian Hettinger (BBA '18) and Danielle Buerger (BBA '17), who are applying what they've learned in MIS in two very different career paths. We also profile Shahla Raei ('17), graduate of the MS in IT Auditing and Cybersecurity, who is applying what she learned to advance her career as an IT Auditor.