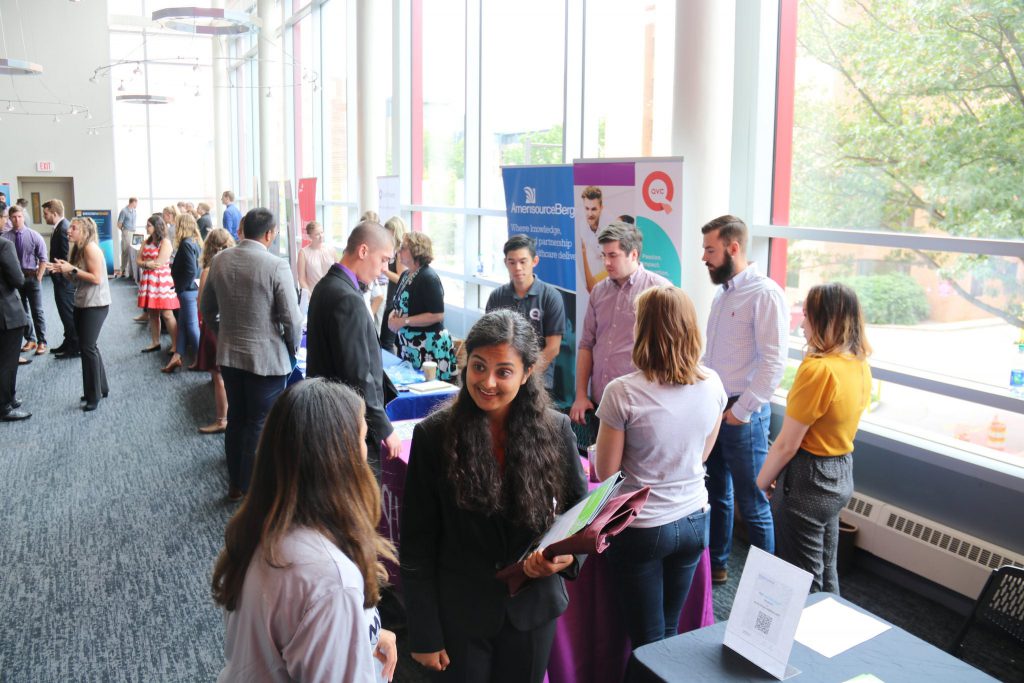 The sixth annual Information Technology Career Fair was the biggest one yet, with 40 companies and more than 250 students taking part in the Sept. 17th event held on Temple's main campus.
Among the businesses seeking to hire Management Information Systems students for internships and jobs were AmerisourceBergen, Dow Chemical, Lincoln Financial, NBCUniversal, Scholastic and QVC. The fair has grown so much that it was moved to the Howard Gittis Student Center, said Laurel Miller, Director of the Institute for Business and Information Technology.
"Our students are getting internships and jobs at many different companies and making an impact. This has companies that haven't been recruiting saying, 'Hmmm. Maybe we should go to Temple and recruit,'" Miller said. "Companies are coming to us and saying, 'Your students are much more professionally developed than others we see.'"
Management Information Systems faculty and staff encourage all students to attend the Career Fair, even freshmen. It's a critical part of their professional development, she said.
"A lot of students come in and say, 'I don't know how to talk to people I don't know. I don't know what to say. I'm too nervous,'" Miller said. "We want our students to start early so they're pros at approaching people and saying, 'I'm Laurel Miller. I'm an MIS major. Please tell me about your company."
This was junior Michelle Purnama's first Information Technology Career Fair. Purnama, who changed her major to MIS last year, spoke in depth to representatives from 10 companies, including the CIO of Alexion Pharmaceuticals, a company that specializes in medicines for rare diseases. She was surprised someone at his level was at a recruitment event.
"We had a great conversation. I could feel how passionate he was about his job," Purnama said. "A resume isn't all that matters. A lot of students have good resumes, but recruiters are also looking for personality and what you stand for."
Purnama told the CIO she wanted to have a job that would have an impact. She now has a summer internship offer at Alexion's Connecticut headquarters.
"He saw how my values aligned with the company and he wanted to recruit me," Purnama said. "When you make a connection like that, right off the bat, it's very special."