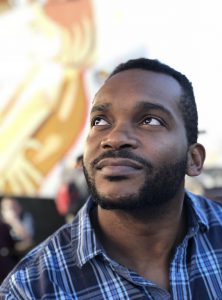 Bryce Buffaloe, MIS '10, is a product manager with Google. "The job is like being the CEO of your own product," says the Management Information Systems program graduate. And it's hard to imagine a more exciting place for that kind of work than Google, whose past products have transformed the business world and our everyday lives.
Buffaloe recently added product manager to his responsibilities at Google, where he is also a Swarm engineer.  Among other things, he works closely with current and potential clients to tackle their business problems with technology-based solutions. "Often they didn't know the technology they needed, and I would be able to come back to them with tools that met their needs," says Buffaloe. "A lot of business goals can be achieved using Google cloud."
Before coming on board with Google in 2017, his career path took him to The United States Attorney's office, where he worked on litigation support database management, and to Accenture, an information and technology services company in the San Francisco Bay area.  "All my work has to do with data and application development. It's just at Google, I have different tools to solve problems," he says.
At first glance, the path from Temple to The U.S. Attorney's office to Silicon Valley might not be obvious, but Buffaloe says the skills he honed at Temple work to unite his resume. He started studying to become a civil engineer before eventually transferring to the Fox School. There, Buffaloe connected with an academic advisor who helped him see that his interest was squarely at the intersection of computers and business–MIS. 
By graduation, I was very well prepared for the real world. My teachers all brought the industry into the classroom," he says.
One issue he's working on now is a serious one with far-reaching implications: The opioid crisis. "It's a complex problem, but it's a problem that has a lot of data points. There are socio-economic areas, there are patterns to how people get help and how they get drugs," says Buffaloe. There's a large amount of anonymized data that, if it can be properly analyzed, can potentially make a major impact.
Google analyzes the datasets to, among other things, identify specific neighborhoods where there's no local center or outreach for opioid users or at-risk populations. "It's similar to the problem of food deserts. People may not be getting help because there's nothing near them," he says. But soon, thanks to projects like these, help could be on the way.