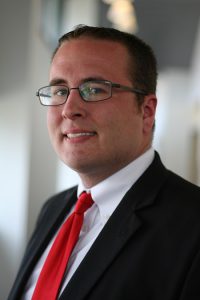 Darin Bartholomew (MS '17) came to the MS in IT Auditing and Cyber Security program after getting his undergraduate degree in MIS at Temple. It was an easy decision because he had a high level of confidence in the curriculum. He put his undergrad degree to use working as a technical specialist at Temple while he went on to earn his master's degree.
"As a Fox alum, I already knew the quality of education they provide," says Bartholomew, now a project manager specializing in cyber security for the investment firm, Vanguard.
He pursued the grad program because he wanted a career change. "I had been working in a functional, IT support capacity, but I wanted to go into cyber security," says Bartholomew. Every week it seemed another major news story broke about security breaches and hackers. As every aspect of life becomes more entwined with technology, and more and more sensitive personal data flows over the internet, the risks and consequences for businesses and individuals are increasing.
It's a problem Bartholomew felt he could contribute to solving, with the right additional training and education. "I wanted something that felt like more than a job. In cyber security you're protecting people's assets, their data, and sometimes even their physical safety," he explains, noting that hospitals and first responders can't do their life-saving jobs in the event of a cyber-attack on the power grid. "Cybersecurity grows in importance every day," he says.
The foundation of skills he built while in the program have helped him succeed at work. "We did many hands-on labs—it wasn't learning technology through a book," he says. He particularly recalls professor Wade Mackey's ethical hacking class, which helped him learn to "think like the bad guys" and use those insights to prevent security breaches from occurring in the first place. "For me as a student that was eye-opening. It made me want to do what I do. Other professors similarly brought real-world experience into the classroom from industry across a wide range of sectors including, healthcare and government.
In his role at Vanguard, he's achieved that goal of meaningful work. "Vanguard is all about doing what's right for investors. I want to be part of something that has an impact, waking up every day and knowing I play a role in keeping our client's assets safe. Vanguard's mission aligns perfectly with what I wanted in my career," he says.