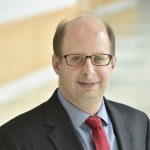 It is always a thrill to welcome back our students for the new academic year. This year, however, is particularly exciting as we celebrate the Temple MIS Department's 20th year with a series of events to commemorate this important milestone. We began with a kickoff reception in August with alumni and faculty. The celebration will culminate with the Institute for Business and Information Technology's 20th Annual Information Technology Awards in April 2020.
We welcome two new faculty to the department – Taha Havakhor and Arjan Raven. Dr. Havakhor's research focuses on IT entrepreneurship and Dr. Raven brings a wealth of industry experience to the classroom. Also learn about Sunil Wattal's latest research in digital transformation.
Read about how new content in three of our courses prepare students for the API economy. Professors Jeremy Shafer and Mart Doyle explain how students will build an API, deploy it to the cloud, and integrate it in into a browser-based application. This will create savvy business-focused developers who understand modern application architectures. 
We also profile how three successful alumni have progressed in their careers. Read about two of our undergraduate alums, Ilya Rogov (MIS '10) and Urvi Patel (MIS '06). Rogov discusses how MIS prepared him for his career as a web developer and Patel shares how she achieved success in several areas including cyber security and digital innovation. Also read about how Darin Bartholomew (MS '17) applied what he learned in the MS in IT Auditing and Cyber Security to launch his career in cyber security.
Here's to a great 20th year!