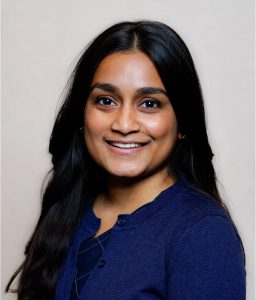 During her career, Rhea Prabhu (BBA '17) has served as a trusted advisor to clients across several different industries, including financial services and life sciences. The throughline in her work is helping organizations leverage innovative and emerging technologies while prioritizing cybersecurity and managing risk.
Depending on the client, that might look like developing a vulnerability management program, or creating executive dashboards to show security risk posture across an enterprise.
Prabhu's resume includes stints at Grant Thorton and Deloitte. She currently serves as a Cyber Security Senior Associate at Ernst & Young.
At EY, Prabhu creates custom security solutions for her clients' unique operating environments. And she continues to draw upon the skills she honed and networks she grew during her time at Temple.
"What stuck out to me about many of my classes at Temple was their emphasis on creating solutions to real problems—not just theoretical scenarios," says Prabhu. They helped me to stretch my creative and technical skills and learn how to interact with clients."
Prabhu also credits being a part of Temple AIS as a member and officer with helping her develop a community of peers and smoothly transition into the workforce. "The IT fairs, awards, socials, and competitions impressed on me the importance of developing a network in addition to applying myself in class. Many of the connections I made there are cherished relationships to this day," she says.
How do entertainment executives decide what content to produce? As a Technical Program Manager at the Santa Monica offices of Disney Streaming, 2023 Temple "30 under 30" recipient Ciara Murphy (BBA '16) leads the Data Solutions teams to help figure it out. They help determine what you watch on some of your favorite streaming (Disney Plus, Hulu) and linear (ABC, FX) channels. 
Murphy's teams collect data as it relates to content, like Disney Channel shows and The Handmaid's Tale on Hulu. "Then we transform the data to make it easy for analysts and business folks to create insight from it," says Murphy.
After spending a few years at Cigna, Murphy found a great culture fit at Disney with a fun team who challenges and pushes each other—reminiscent of her experience at Temple. 
"Working on group projects at Temple was similar to my career experience so far in the way that you have this big idea, then you break it up into more achievable milestones," says Murphy.
"The curriculum overall really challenged my way of thinking and taught me how to approach problems in different ways," she says.
Murphy encourages undergrads to get a solid foundation in data and analytics. "Especially in this economy, decisions are very data driven. And having accurate data on customers is super important to operate your day-to-day business," she says.