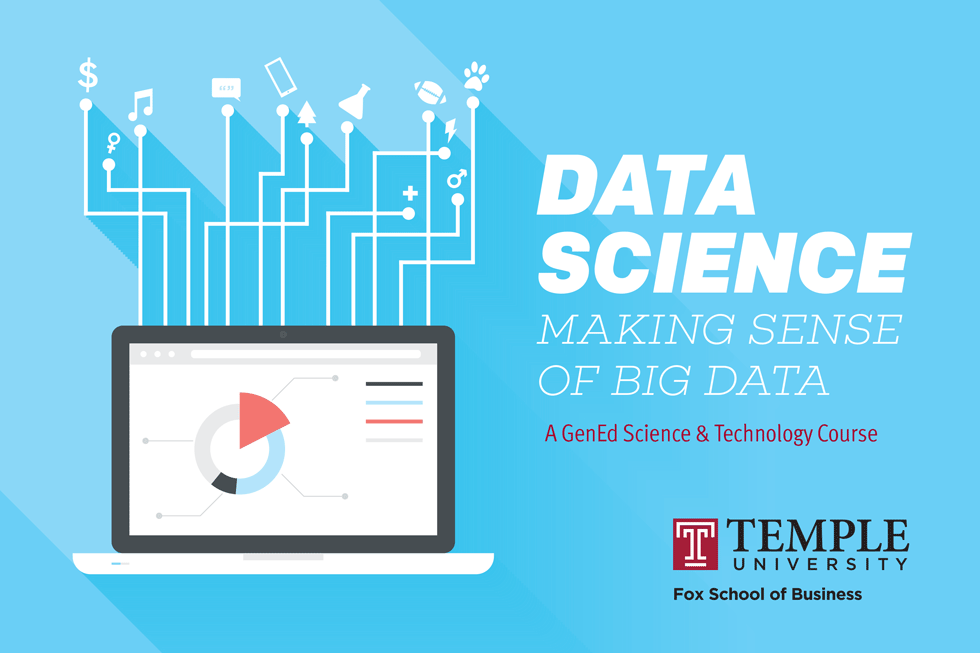 Data pours in from social media, weather stations, government agencies, mobile phones, credit card purchases, and other new devices continuously. How do you make sense of it all?
Learn how to harness the power of data to understand the world around you and make better decisions.  
Create impactful and persuasive presentations by learning the key principles of presenting data visually.
Coming from liberal arts background, the way information is portrayed and delivered to an audience is particularly important. This course can be beneficial to students from any academic background in the Information Age.

Joyce Rasing, Political Science, CLA '14

I've always been fascinated by data and numbers. This course offers so much value to all students since it allows a student to understand and get hands-on experience with data and the many possible connections that arise.

Kevork Chouljian, Marketing, Fox '18
Course details
Course name and number: Data Science | MIS0855
Summer 2017 sections

MIS 0855, section 011, MW 10:10 am – 1:05 pm, CRN 5616, Laurel Miller

Fall 2017 Sections

MIS 0855, section 001, TR 9:30 am – 10:50 am, CRN  24896, Laurel Miller
MIS 0855, section, 002, MWF 4:00 pm – 4:50 pm, CRN 27681, TBA
MIS 0855, section 003, TR 11:00 am – 12:20 pm, CRN  28556,  Laurel Miller
MIS 0855, section 004, M 5:30 pm – 8:00 pm, CRN  31116, TBA
MIS 0855, section 005, R 5:30 pm – 8:00 pm, CRN  31117, TBA
MIS 0855, section 006, MWF 9:00 am – 9:50 am, CRN  21118, TBA

Pre-requisites: None. No technical background is required, you will get hands-on experience  with easily available software.  
Fulfills: GenEd Science and Technology Requirement (GS)
Course goals
Apply data to make better decisions
Locate data relevant to you
Make predictions about the future
Combine data sets to discover new insights
Differentiate good data from bad data
Master data visualization
Work with common, powerful tools like Tableau and Microsoft Excel