AIS Mentorship
Reflection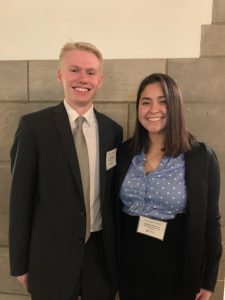 My mentor Nathaly and I at the 2019 Fox IT Awards
Mentorship Timeline
| | | |
| --- | --- | --- |
| School Year | Paired With | Role |
| 2018-2019 | Nathaly Gonzalez | Mentee |
| 2019-2020 | Connor McShane, Nhi Nguyen | Mentor |
| 2020-2021 | Ajay Oomman, Noah Stahl | Mentor |
Joining the AIS Mentorship Program was one of the most valuable experiences I've had since coming to Temple University. For my freshman year, I had the pleasure of having Nathaly Gonzalez as my mentor. Nathaly is a true role model in every aspect; she is kind, intelligent, outgoing, and hard-working. From the very start, Nathaly made sure that I was actively involved with AIS. She encouraged me to attend several networking events like the Fox IT Career Fair, where I made connections with incredible people from the Fox MIS Department. Nathaly also provided me with outstanding resources such as discovering internship opportunities, critiquing my resume, and creating my e-Portfolio. I am extremely grateful for her friendship and guidance. I accomplished so many wonderful things during my first year of college by participating in the AIS Mentorship Program.
As the Chair of Mentorship for AIS, I was given the opportunity to mentor two outstanding MIS students during my sophomore year. I mentored first-year students Connor McShane and Quynh Nhi Nguyen. As a student who declared the MIS major from the beginning of my college career, I wanted to share my advice with students who went through the same experience. I helped Connor and Nhi network within the MIS/AIS community, discover career opportunities, and develop their interests and professional aspirations. Connor and Nhi continue to make me proud by becoming active AIS members and MIS PRO Point Ambassadors.
The following year I mentored first-year student Ajay Oomman and sophomore Noah Stahl. The mentorship program was conducted virtually due to the COVID-19 pandemic, but we were still able to form strong bonds. I encouraged Ajay to join AIS and network with fellow MIS students. I helped Noah improve his resume and LinkedIn profiles and helped him secure a spot in an external Microsoft mentorship program.