AIS
Association for Information Systems (AIS)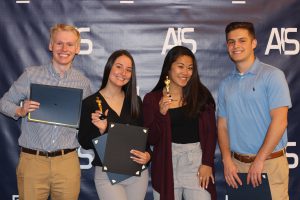 In the fall of my freshman year, I joined Temple's chapter of the Association for Information Systems (AIS). I quickly became an active member, completing all three membership tracks during my freshman year. What I like most about AIS is that it gives students the opportunity to explore many career pathways in the field of Business and IT and improve on their professional development skills. My hard work was recognized at the 2019 Fox IT Award show, where I won the Member of the Year Award, as well as the Freshman Professional Achievement Award.
AIS Executive Board
I am currently serving as the Vice President for the 2020-2021 school year. I am proud to have a major leadership role for an organization that has done so much for my professional development. This role is both exciting and challenging as we navigate through the COVID-19 pandemic.
I previously served as the Chair of Mentorship for the 2019-2020 school year. The position allowed me to create mentorship pairings so underclassmen can become familiarized with the Temple MIS Department and AIS. The program had such a wonderful impact on me during my freshman year, and I hope that other underclassmen will have a great experience with the program like I did. The program has over 120 members and we developed an Alumni Mentorship Program in the spring semester.