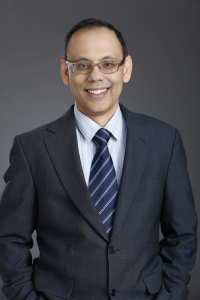 The Association for Information Systems honored Atish Banerjea, Chief Information Officer, Facebook, and Fox School '91 alum, with the inaugural Association for Information Systems Leadership Excellence Award on December 12, 2016 at the 37th Annual International Conference on Information Systems (ICIS). Banerjea also delivered the keynote address at the conference while accepting the award.
Banerjea was recognized for his distinguished leadership and innovation in the use and development of information systems. Renowned for his extensive experience in adapting to succeed in the rapidly-changing technology landscape, his new role puts him in charge of Facebook's global IT functions.
"Atish is at the forefront of the ongoing digital revolution that is transforming both business and higher education," said AIS President, Jason Thatcher. "He is a fantastic role model for IS students and his success in digital transformation resonates with the research focus of much of the IS academic community."
Banerjea has previously served as Executive Vice President and CIO for NBCUniversal where he leveraged digital technologies to drive change, constructing a networked infrastructure that positioned IT as a partner capable of substantively contributing to the company's strategic aims.
Banerjea also served as the Chief Technology Officer and Senior Vice President of Dex One Corporation, where he led a major redesign of that company's IT functions, helping to transform Dex One from a print-centric business to a digital media marketing company. Prior to that, Mr. Banerjea served as Executive Vice President and Chief Technology Officer for Pearson, where he was responsible for the global planning and management of IT.  He currently serves on the boards of directors for Hibu, Inc, a digital marketing firm, and Nelson Education, Canada's leading educational publisher, and is also a member of the Fox IT advisory board at Temple University.