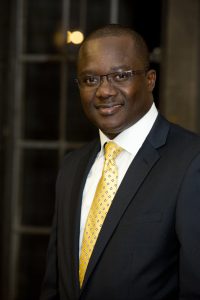 Abdul Koné loves his job.  
As an IT Audit Manager for Santander Consumer in Dallas, Texas, Koné's day-to-day goes beyond sculpting and planning audits for the company and into nearly every aspect IT. 
"I wouldn't say I'm an expert in one area, but I've gotten such a good understanding of every area," he says. "Also, I've found that managing people, empowering them, watching them grow in their field is something I love to do."  
Growing up in West Africa's Ivory Coast, Koné's dream career wasn't in management or technology, but aviation — he'd always wanted to be a U.S. Air Force fighter pilot. "I came to realize that wasn't going to be so easy," he says with a laugh. Instead, he went on to earn a bachelor's degree in computer science at the Canadian University of the Arts, Sciences and Management in Abidjan. Before coming to the U.S., he did some homework on the IT industry and its career possibilities, and was intrigued by the job prospects in IT auditing. Temple's Fox School of Business was the only school of the handful he visited that offered anything like the IT Auditing and Cyber Security program. In 2012, he enrolled; by 2013 — before he had even graduated — he had his professional certification and three job offers.      
"I can say that ITACS really helped me understand the business," he says. "One of the really good parts of the program was that all of my instructors came straight from the industry, so they knew how to take all of these concepts and put them into real-life context, with practical examples. It was incredibly helpful."  
In fact, he says, it was the practical, business-focused structure of the ITACS program — from the real-life experience the capstone project provided to the resume support at the Fox School's Center for Student Professional Development — that helped shape his career. Well, he adds, that and the quality of the people involved in the program.   
"The professors were so knowledgeable, and so patient," he says. "I had a great mentor, Michael Griffith, who taught me so much of what I know. He believed in me, which meant the world to me."   
It was Griffith, Koné says, who encouraged him to apply for the job that he ended up taking right out of ITACS — a coveted position with Morgan Stanley as an information technology auditor. A year later, when his wife's job took them to Dallas, Koné landed at Santander, where's he's steadily climbed the ranks since 2014. Not only has the job given him the chance to put to use the skills he sharpened at Temple, but the career pathways in the industry are growing all the time in today's world, he says. (In fact, he recently hired a former ITACS classmate as a senior officer at Santander.) "It's definitely a field that's full of opportunity," he says.