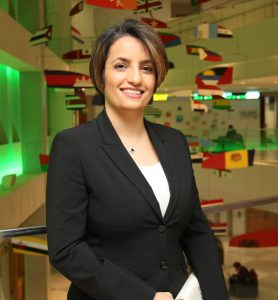 Global end-user spending on cloud computing is expected to reach $482 billion in 2022, and the most successful companies will maximize that investment. Dr. Leila Hosseini focuses on identifying ways they can do just that.
Dr. Hosseini joined Temple in Fall 2020 as an Assistant Professor after earning her Ph.D. in Management Science with a concentration in Information Systems from the University of Texas at Dallas. Her latest research projects examine managerial and operational solutions to improve efficiency in technology markets, particularly cloud computing.
When cloud computing first emerged, many companies questioned whether to adopt it, says Dr. Hosseini. Now that it's widely embraced, the main concern is cost. "The common goal among all organizations is to continually reduce operating costs while meeting computational needs," she says.
Many companies believe it's more cost-effective to use one single cloud computing resource for their fixed offline computing tasks, such as clickstream analysis and log file processing. But one of Dr. Hosseini's papers showed that a firm could cut their cloud computing costs by 25 percent by using a new procurement policy. She analyzed Amazon Web Services' complex pricing policies to show the advantage of renting multiple computing resources to meet a firm's needs.
"We found that for companies that frequently conduct these fixed-sized offline computing tasks, it's actually more cost-effective to use multiple computing resources to achieve lower overall rental costs," says Dr. Hosseini.
"We believe that companies can use this approach to migrate in-house solutions to the cloud in a cost-effective manner," says Dr. Hosseini. "They can also leverage cloud brokers, who are navigating the complicated cloud market on the users' behalf to get the best value while meeting business objectives."
A second paper by Dr. Hosseini focuses on mobile advertising. It analyzes a procurement model for an ad-delivery firm called Cidewalk. Ad-delivery firms like Cidewalk act on behalf of retail and other companies to execute mobile, in-app ad campaigns. This is typically done through ad exchanges, which sell ad space on mobile apps via real-time auction. Dr. Hosseini's research examined whether ad-delivery companies should work with one or multiple ad exchanges to get the best deal for their clients.
"We found that by working with multiple ad exchanges, Cidewalk was able to reduce its total cost by 33%," says Hosseini. This means that it may be beneficial for other ad-delivery companies to branch out to work with multiple ad exchanges rather than deal with only one.