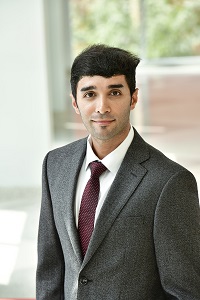 In his research, Assistant Professor Taha Havakhor zeroes in on the intersection of technology and policy. His current work investigates how big data, big tech, and entrepreneurship impact a fast-changing world. And his findings suggest policy solutions for some of today's tough business problems.
One of his ongoing projects looks at current well-intentioned cyber security laws and shows how these laws can actually stifle digitization growth. As it stands, the laws force firms to disclose even the smallest security breach to shareholders and the public. This can be a disincentive for businesses to digitize at all. Businesses fear legal ramifications, says Havakhor. "This legislation is one size fits all. However, it's often the bigger firms that are the targets of cyber security incidents," he says. His research suggests that it would make more sense for these laws to be contingent on company size. 
Another project explores how access to big data can be harmful to main-street investors using trading apps like Robinhood. "When you give this kind of tech to investors who don't have the financial literacy required to understand it, they lose money and worse," he says. Back in June, one such 20-year-old investor ended his life after seeing a negative balance of more than $700K on his Robinhood dashboard, notes Havakhor. "There needs to be more regulations to oversee digital financial services that are offered to main-street investors," he says.
Also under review is a paper titled, "To Break Them Up Or Not?" This work takes a deeper look at the venture capital arms of the big tech companies. "When these tech executives go to legislators, they talk about how they are encouraging innovation by investing in startups, but we want to understand if that's really happening or not," says Havakhor. His research indicates that the opposite is more likely true. "When you look deeper, you see it decreases the radicalness of the breakthroughs. In the areas where the big tech VC arms have entered, digital breakthroughs are not as big as they used to be," he explains.