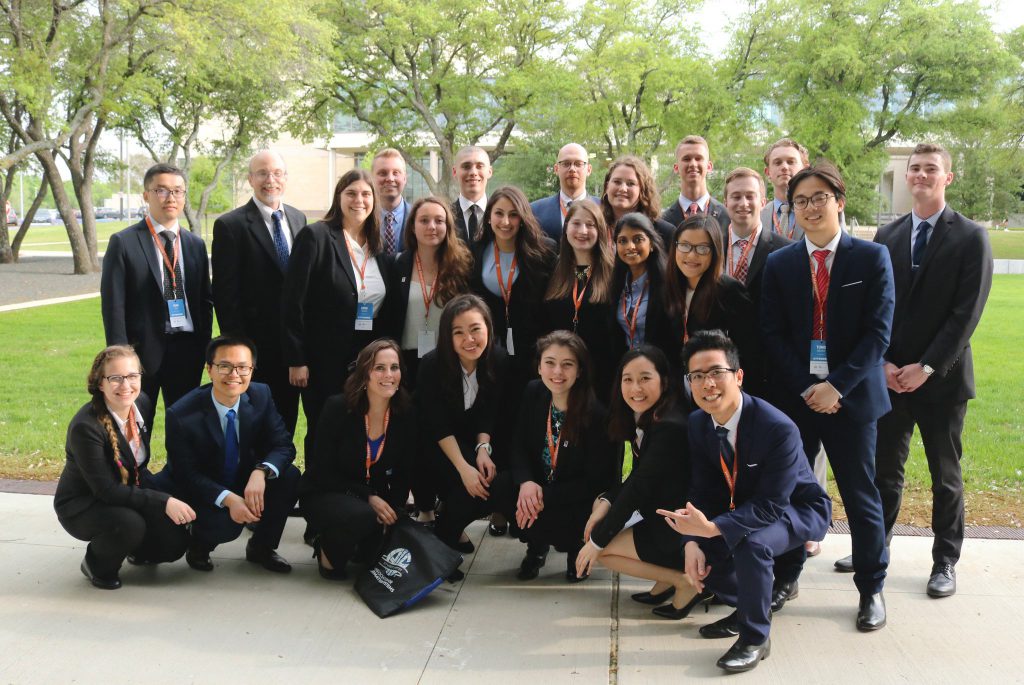 Five Temple University undergraduate teams were winners in contests judged during the Association for Information System's Student Chapter Leadership Conference in Dallas in April.
The contests pitted Temple against schools in the U.S. and abroad, including the universities of Alabama, Georgia, Michigan and Colorado; Saudi Arabia's Prince Sultan University and the University of Gdansk in Poland.  Temple is hosting the 2019 conference.
Faculty advisor Jeremy Shafer said he knew the students were "world class" but he was  overwhelmed by their performances, "We ended up sending the six teams that made it through first round to the finals, a big achievement."  
Shafer won, too, recognized with the AIS Advisor of the year award, a new honor.
"I was really stunned, humbled," Shafer said.
Find details about the winning projects below. 
The Computational Society Case Study Challenge
First Place — Cara Evans, Rebecca Jackson, Zoe Weiner  
Evans '19, Jackson '19 and Weiner '18 explored how new technologies — specifically smart phones, radio-frequency identification (RFID) and "smart mirrors" – can help physical stores out sell Internet options. They found many retailers invested in one technology at a time but concluded offering multiple technologies simultaneously would be better.
"To survive, the physical stores have to offer something online can't," Jackson said. "Together (these technologies) create great customer experiences."
Third Place — Andrea Behler, Erin Ebling, Michelle Pangestu
Behler '19, Ebling '20 and Pangestu '20 explored how technology could affect well-being.
The team concluded that new programs using virtual reality and artificial intelligence could allow athletes to train without fear of injuries and could monitor vital signs to construct tailor-made work-outs. They found that video games like Pokemon Go! encouraged people to be more active.   
"You have gamers who become more athletic and athletes who turn into gamers," Behler said. "Each are realizing true health benefits."
NBCUniversal Analytics Challenge
First Place — Chi Pham, Ngoc (Nathan) Pham, Run Zhu
Chi Pham '19, Ngoc Pham '19 and Zhu '18 focused on QVC's existing warehouses to determine why customers complained about deliveries. Data showed that a majority were unhappy waiting more than one week for goods. They found 97 percent of products shipped from four Northeastern warehouses to customers nationwide.
"We focused on the story," Ngoc Pham said. "The judges liked that the flow was easy to follow and there were specific recommendations that could be applied within one to three months."
Second Place — Quyen Le, Tung Nguyen, Cong Ngo
Le '20, Nguyen '20 and Ngo '20 approached the QVC data with the question: Does delivery speed matter?
They calculated delivery times for loyal shoppers who purchased things more than once and one-time shoppers in eight different product categories. They concluded that customer retention would increase by 27 percent if the company improved delivery times. QVC could do that by changing its warehouse system.
"Our strategies optimized distribution of work to ship the right products to the right people at the right time," Le said.
Emerging Technology Development Challenges
Third Place — Albert Semin, Christopher Sidorchuck, Graham Geiger, Mason Elliott 
Blockchain technology is new and oft-challenging to comprehend. That's one reason Semin '19, Sidorchuck '19, Geiger '20 and Elliott '20 decided to accept the challenge.
The team put together a network that, while mostly theoretical, "could absolutely work 100 percent," said Sidorchuck said. It created a transparent supply chain that allowed decisions to be made in real time, keeping all participants in a project accountable while also maintaining privacy needs.
"Some people say (blockchain technology) is going to be as big as the Internet or close," said Sidorchuck, "I don't know about that, but it's going to be pretty important in the next 10 or 20 years. "