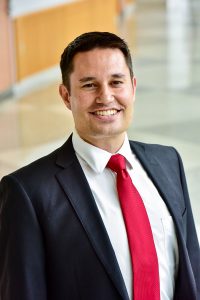 Associate Professor Anthony Vance said the most common cybersecurity mistake people make is password reuse. To minimize the threat of a data breach, every online account password must be unique. All that memorization? Impossible.
"If you try to remember all the passwords in your head, they'll be weak. You shouldn't even try," said Vance, who has used functional magnetic resonance imaging (fMRI), eye tracking and electroencephalogram to explore how to create security warnings that won't be overlooked. "I recommend using a password manager."
These online services require users to memorize a single strong password – Vance recommends a random string of words – and the software will manage the rest.  
"That reduces the number of passwords from dozens to just one, and that's feasible," he said.
Vance is one of two new professors on the faculty of the Management Information Systems Department of Temple University's Fox School of Business. He will teach a cybersecurity elective for undergraduates while juggling research topics including how to make strong passwords easier for the brain to remember. He also serves as Director of Fox's Center for Cybersecurity.
"At the beginning of classes, I tell students I want them to develop a sense of 'professional paranoia,' " said Vance, who has Ph.Ds in Information Systems from Georgia State University, the University of Paris-Dauphine and Finland's University of Oulu. "I want people to know what risks are out there and to make intelligent decisions about them."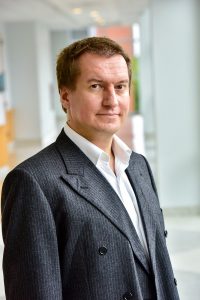 Assistant Professor Aleksi Aaltonen, whose research focuses on data-based innovations and organizing using computational methods, is also new to Fox.  He's also a successful entrepreneur – He co-founded Moves, an activity tracking app that was purchased by Facebook in 2014.   
"I tell students that doing academic research and being a start-up entrepreneur are very similar because with both you have to cope with lots of uncertainty," Aaltonen said. "Even if you have a great idea, it takes a lot of work to be successful whether you're an entrepreneur or a researcher. Both also require accepting that sometimes you'll fail."
Aaltonen, whose Ph.D. is from the London School of Economics and Political Science, said technology is changing quickly and it's critical that users evolve and change with it. He cited Wikipedia as an example.
"How did it learn to manage itself? Where did that come from?" he asked. "We have to remember that it's completely different from 2001 when it started. The original intentions may not drive it today. How do they change and evolve without becoming stale and falling apart?"
Aaltonen will teach a project-based MIS 4596 course requiring students to develop a tech solution to a problem or an innovative application. It's the final course for MIS undergraduates,  allowing them to integrate all that they've learned.
Aaltonen's real world entrepreneurship means students will benefit from his experiences. He also discourages being a new technology evangelist.
"We need to teach our students to see through the hype and to pick out the technologies that are relevant for their businesses," Aaltonen said. "Pay attention to tech but not just for the sake of tech."