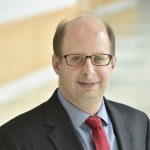 It's been another great year for Temple MIS. We are proud to have hosted the 10th Annual Association for Information Systems (AIS) Student Chapter Leadership Conference. The first conference was held at Temple in 2010, and the opportunity to bring it back to Philadelphia was exciting. In addition, three Temple AIS student teams placed in the Alexion Analytics Challenge track and our student chapter took home two awards.
I am also pleased to share our faculty's recent research accomplishments. Professor Min-Seok Pang won best paper awards from the Association for Information Systems and Information Systems Research. Professor Detmar Straub's had a busy year generating eight top journal articles on topics including health IT, knowledge management, outsourcing and two-sided platforms. We also profile Professor JaeHwuen Jung's research about how mobile devices affect behavior.
Our signature event with the Institute for Business and Information Technology (IBIT), the 19th Annual Fox IT Awards, was a great success. The honorees were technology innovators and leaders Angela Heise of Leidos, John Collier of Wawa, and Himesh Bhise of Synacor. IBIT also launched the Digital Innovation Foundry, a hub for assessing, integrating, and prototyping digital technologies.
Read about our successful alumni, including Google Swarm Engineer Bryce Buffaloe, MIS '10, who is using data to tackle the opioid crisis. We also profile Clare Perretta and Anthony Pizzuto, graduates of the MS in Digital Innovation in Marketing, who are applying what they've learned to advance in their careers.