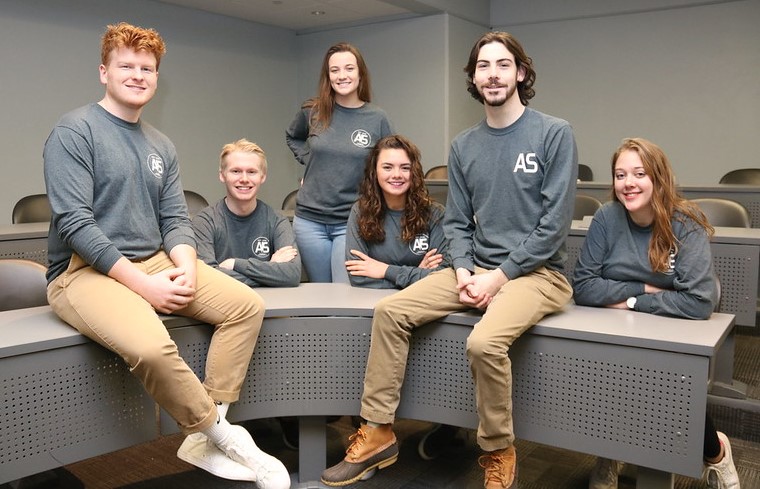 This semester, the Association for Information Systems (AIS) took the organization's longstanding commitment to community service to the next level. In partnership with Steppingstone Scholars, AIS President Chinmay Muttur and Treasurer Kevin Publicover created a new coding club at Tanner G. Duckrey Elementary — a K-8 school right in Temple's backyard.
Each week, half a dozen middle schoolers develop their skills through hands-on practice with block coding that's presented in a fun, engaging way. Each session also includes a short presentation about a career in the coding field and a self-reflective closing circle about a topical subject, such as Black History Month.
"I like the dance party code program that we do," says one Duckrey student. "You get to pick your own music and set up who your characters are. I like that it's a small group, so we get more done in a small amount of time." 
"One goal we had going in was to spark interest in at least one student and we've been successful in that mission," says Publicover, who created the club's curriculum and teaches it with fellow AIS members Sean Boyer, Emily Gindele, Jessica Ladzenski, Kyra Lloyd, and Connor Ross in coordination with Steppingstone's Jhanae Mahoney and Hannah Clements. "A couple of students have shown a passion for coding this session."
"We've been able to take what we do in MIS at Temple and turn it into something we can spread around North Philadelphia," Muttur says. "It's amazing how much a middle school student can grasp coding if it's presented in a way that's fun." According to Muttur and Publicover, AIS is already making plans for next semester and beyond.
The coding club was born after AIS identified an opportunity for growth in volunteerism and community service, according to Steve Sclarow, faculty advisor for Temple AIS. "The AIS team saw this as an opportunity to provide value for the neighborhood while reinforcing their own skills," he says. "You learn as much by teaching as you do by doing."
Steppingstone has been impressed by AIS and hopes to use the partnership as a model for engaging other student groups across the university with their after school programs, says Chris Avery, vice president of programs for Steppingstone Scholars, a college access program started in 1999. "Working with AIS helps us create a pipeline to build continuity and replenish support after the current MIS students graduate," he says.
One of Steppingstone's goals is to see its students continue developing their coding skills through high school and go into STEM fields after college. "That spark can start in elementary school when students are given skills around coding by engaging role models from AIS," Avery says.