Recruitment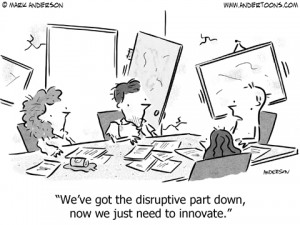 http://www.cio.co.nz/article/565828/lesson-disruptive-innovation/
Jon Rice and Sean Walters were able to take the concept of disruptive innovation and apply it to the recruitment industry (which they said "was ripe for innovation") by founding virtualRPO. As it's name implies, it is a virtual platform that provides companies with their own dedicated recruitment professional, whose services they only pay for when they use.
All of their systems are cloud based and they boast that they can "deliver a better hire for half the cost." This especially appeals to high growth companies, such as My Food Bag, because virtualRPO has contingent, flexible services that don't force permanent and salaried recruitment functions.
Lastly, there is currently a rise in demands (that isn't being met) for experience with cloud software, mobile, Enterprise applications and big data analytics, which is causing something of a talent war in this market segment. Tech and SaaS firms are seeking very similarly skilled individuals, so they are essentially competing against each other. This is a great opportunity for virtualRPO, as a low-cost recruiter, as technological companies need to seek third party help to find people with these skills.
Subscribe to class via Email