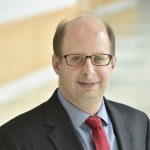 As we continue the return to normal, I am proud to feature the outstanding accomplishments of our faculty, staff, and students. I am also excited to share that we will be finishing the celebration of the Temple MIS Department's 20th anniversary that began in Fall 2019. On April 14, the Institute for Business and Information Technology and the MIS Department will host the 20th Annual Information Technology Awards.
We begin by highlighting several significant achievements of our faculty. First, Temple MIS faculty were among the most prolific in the world once again in 2021, according to the Association for Information Systems' List of High-Quality Journals. Professors Jason Thatcher, Min-Seok Pang, and Detmar Straub are featured individually on that list. This accomplishment reflects the strong, intellectually diverse group we have built at Temple.
Second, two of our faculty have been recognized as leaders in our field by the Association for Information Systems (AIS). Professor Taha Havakhor recently received the AIS Early Career Award and professor Munir Mandviwalla received the AIS Technology Challenge Award.
We also profile the research of professor Leila Hosseini, who studies how organizations can control their costs in cloud and mobile advertising.
Our students are also doing great things. Read about how our student-led Optimize Consulting Group provides IT consulting services to local non-profits. Learn how our students are helping the community while learning valuable real-world skills.
I am also delighted to share stories of our excellent alumni. Learn how Noah Mercado (BBA '16) used the foundation he received while at Temple to succeed in his current role as Cloud Solutions Architect at Google. Also, discover how Czarina Agravante (BBA '13) uses her Temple MIS education to design digital customer experiences at Comcast. We also profile two recent Master of Information Technology Auditing and Cyber Security alumni, Megan Hall (MS '21) and Vanessa Marin (MS '21). Read about how the program helped both advance their careers. Finally, we are proud of our first Ph.D. graduate John D'Arcy (Ph.D. '05), who was recently appointed senior editor for MIS Quarterly, the top journal in the field of MIS.
I look forward to seeing everyone at this year's IT Awards in April as we celebrate our success, once again and at long last, in person!