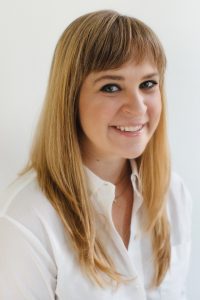 Lauren Moreno's undergraduate education spanned fine arts, journalism, and art history. In search of a graduate program that would enhance her sales and marketing career, Moreno chose Temple University's Fox School of Business.
In February, Moreno earned a Master of Science degree in Digital Innovation in Marketing (DIM), as part of the online program's first graduating class. "I wanted a graduate program that offered the business school background that I didn't get from my undergraduate degree, while complimenting my work experience," said the 31-year-old Moreno. "I decided the DIM program was what I was really passionate about and thought that should be where I'd put my energy."
Moreno co-founded Team 624 Communications, a digital branding, social media, and content marketing firm for which she serves as creative director. The Digital Innovation in Marketing program, which can be completed in 16 months, enables students like Moreno to flourish in a collaborative environment that fosters an understanding of the digital marketing industry.
It's always changing," said Moreno. "As professionals, we need to keep learning and challenge the practices we're using. If you're not paying attention to where your engagement is coming from and what type of content is working, it won't take long before marketing efforts are diminished."
With the help of an advisory council comprised of digital innovators who are currently in the industry, students in the DIM program are offered a curriculum that coincides with what is part of the professional landscape.
The overall mission of our program is to create the next generation of digital marketers," said Amy Lavin, director of the Digital Innovation in Marketing program. "In today's digital economy, it's not enough to just be a marketer. It's not enough to just be technical on the marketing side. We give the students in our program the ability to understand both sides."
The MS in Digital Innovation in Marketing is offered jointly by the Fox School's Management Information Systems (MIS) and Marketing and Supply Chain Management departments. In January, the MIS department's graduate programs earned a No. 16 ranking in the country from U.S. News & World Report — a feat that Lavin said validated what the program has to offer.
You can complete any kind of Google search right now, and you know this market is hot," said Lavin. "In this program, we'll give students the skills they need in order to be successful. As the marketplace opens up and people realize that they need this skill set, we're going to continue to grow our MS in Digital Innovation in Marketing."
Currently, Moreno remains focused on utilizing the tools she has taken from the program to grow Team 624, alongside her business partner, Kaitlin Cleary. "We want to meet our next goals by identifying potential revenue streams," Moreno said. "We're looking at offering trainings, workshops, online courses, and like we learned in the program, really using technology to our advantage to reach more people."