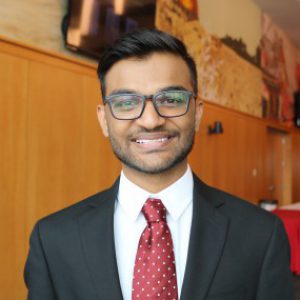 @prince-patel
active 1 month, 3 weeks ago
@tuf45019 Hey Kasey! This is Prince Patel. I saw we have similar interests in career. I wish you good luck with your college and your career in MIS. Thanks!
View
While many believe that brick-and-mortar retail is being taken over by the online shopping market, in-store retailers have a prime opportunity to distinguish themselves by leveraging technology in their stores. […]

I feel that instore retail has a big opportunity to make a comeback. The argument that online products are cheaper is not very persuasive anymore. Many sellers are taking advantages of the unwillingness of customers to leave their houses to increase the price to surpass in-store products. I agree with this blog about how technology can play a big role in this reversal. Stores can use technology like how Amazon Go stores had captivate their customers. They use hundreds of cameras, weight sensing technology, and QR codes to accurately track customer's purchases. The customers do not need to wait in line, which is one of the drawbacks to in-store shopping, as the technologies used have accurately track and bill their purchases. The WIFI and RFID can be used to achieve a similar function as Amazon Go store to bring back customers with novelty and efficiency.
Source: https://www.cnn.com/2018/10/03/tech/amazon-go/index.html

I think it's an exciting time for retailers to rethink the retail process. Its time for retailers to break the mold and start captivating customers with an in store experience based on emerging technologies. Leveraging technologies like AR and VR, stores can begin to offer an exciting and and immersive shopping experience. IKEA is using AR to help you plan if furniture will fit in the space you have. This use of AR is decreasing product returns and helping customers get it right the first time. Retail is becoming stale but by applying creative technological solutions to enhance or retool your in store processes retail could become king again.

https://www.retailcustomerexperience.com/blogs/how-emerging-technologies-are-changing-the-retail-shopping-experience/

There has been so much innovation in term of online commerce in the last 20 years. Amazon has risen into the one-stop-shop for everything, and it is online. I like that the idea of brick-and-mortar shops are being developed along with eCommerce. There is still value in the physical store, as you can actually see and touch what you are buying. You can wear the clothes before purchasing them, and you can check the fruit and make sure that is the one you want. At the same time, there are some caveats to how the RFID and buyer behavior system is being implemented. I find it unsettling that all of my purchases are being monitored by the store, and my decisions are being alerted to workers. I like things best when I'm left alone. We shall see how this is used in the near future.