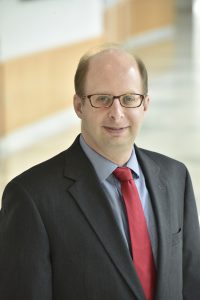 The Fox School of Business is excited to welcome Dr. David Schuff as the new chair of the Department of Management Information Systems (MIS). Since joining the faculty in 2000, Schuff has played a major role in elevating the reputation of the department through his exceptional teaching, research, and leadership.
David's service to Fox and the MIS department has been invaluable since his arrival nearly two decades ago, said Dr. M. Moshe Porat, Dean of the Fox School. His creation of the Temple Analytics Challenge, for example, demonstrates the value he places on interdisciplinary research and experiential learning activities. I am confident the department will continue flourishing under David's leadership.
Schuff's research interests include the application of information visualization to decision support systems, tools for self-service business intelligence, and the impact of user generated content on organizations and society. He has published over 40 journal articles, many in top research publications, such as Management Information Systems Quarterly, Decision Sciences, Decision Support Systems, and Information & Management.
In addition to teaching in the MIS department, Schuff has taught in the BBA, MBA, and Executive MBA programs at the Fox School's campuses in Colombia and Japan; and he was the founding academic director of the Executive Doctorate of Business Administration program. His course topics include data analytics and information systems strategy, and he has won numerous awards, including the Musser Award for Excellence in Teaching, the Lindback Award for Distinguished Teaching, and the MIS department's teaching award. (He won the latter 13 times—more times than any other faculty member.)
Dr. Schuff's accomplishments as a founding faculty member—and especially his commitment to teaching excellence—make him extremely well qualified to take on this role, said Dr. Munir Mandviwalla, who preceded Schuff as MIS department chair. I am confident he will take the department to even higher levels. It has been a privilege serving the department since its founding in 2000. I look forward to concentrating on leading the Institute for Business and Information Technology (IBIT) to further enhance industry engagement.
Schuff's impressive history with the Fox School gives him a unique ability to lead the MIS department into the future.
I am proud to serve as chair of the MIS department, said Schuff. Together we've built an amazing foundation of highly ranked undergraduate and graduate programs with a vibrant faculty of excellent teachers and top-tier researchers. It will be exciting to see where the future takes us as we create new academic programs, explore new areas of boundary-spanning research, and continue to grow as a leading department.