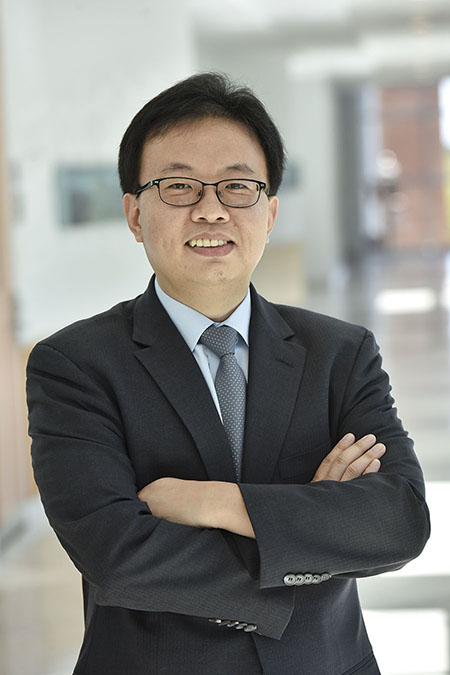 Min-Seok Pang doesn't follow sports.  "I'm a news junkie, and politics is like my sport," said the associate professor of Management Information Systems. So back in 2013, when late-night TV hosts were mocking the botched rollout of HealthCare.gov, the website integral to the Affordable Care Act, Pang stayed on top of every headline.
From this passion for politics, a research project was born. Pang's resulting paper, "Politics and Information Technology Investments in the U.S. Federal Government in 2003–2016," was published in 2017 and recognized as a best publication of 2017 by the Association for Information Systems, as well as the best published paper of 2017 in the journal where it appeared, Information Systems Research.
Pang has an explanation for the paper's warm reception: "In the business school, our focus is usually on just that: business. We don't really look at government," he said. But with technology becoming increasingly vital to implementing new policies, it was time to expand the boundaries of his discipline.
In his research, he analyzed 14 years of data on IT investment at the federal level. His conclusions could change the way money is spent on technology: When the government is divided, with one party in the White House while the other controls Congress, 8.3% less money is invested in new IT systems, with more spent maintaining legacy systems.
This reluctance to innovate can be countered by increased funding for new IT development when conditions are favorable. A unified government is one such condition; if an agency head has been approved by Congress that also tilts IT budgets toward new initiatives. Pang also advocates for the creation of a cabinet-level Chief Information Officer (CIO), who would have authority to direct funding toward IT development.
In the two years of unified government since Pang's research ended, the Modernization of Government Technology (MGT) Act passed. The Act provides significant funding for investments in new technology and updating obsolete systems. "This is a drop in the bucket of what's needed, but it's a good start," said Pang.
Pang's next research project will explore how government can attract younger IT talent away from Silicon Valley. If his recommendation for a cabinet-level CIO is realized, this next generation of developers will be essential to avoid the blunders of the now-infamous Healthcare.gov rollout and implement the policy initiatives of the future.