Nailing the group presentation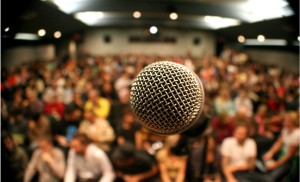 In this article by Mark Suster, an entrepreneur, tips on how to "not suck" at presenting to a group/large audience are discussed. A few of the points stood out to me and I think they really apply for our final presentations on May 4.
"Show some energy!" Mark encourages presenters to jump boldly out of their comfort zones–as everyone in the audience has a mobile device or laptop just waiting to be used if attention is lost. He makes the point that it's really important to project, use hand motions and "interact" with the audience in a "loud, evocative and compelling" way.
"Tell a story." Mark encourages presenters to tell a story if a demo is used in their "pitch" to the audience. Rather than highlighting points like how users input data or sign up for the platform, Mark encourages presenters to tell a story about how the app/demo is applicable in real life. I think this is key for our presentations, as we're all trying to convince a large, diverse group that our app can add value to their lives.
"Make it visual." Mark discusses how he usually creates two decks when giving a presentation: 1 with high-level stats and lots of valuable pictures/graphs/charts/etc. and 1 full of the "meat" that he sends to his audience after a presentation. I think this is similar to what we're doing with our presentations– 1 "pretty" deck that covers high-level information about our projects, and a community site where we post all of the "nitty gritty" details for viewing after the presentation. I think this is the best practice because it gives people the general idea of what you're talking about without making them "think" too much–and gives them the ability to investigate further if they're so inclined. And that's key.
Do you agree with Mark's points? I do. I think they're pretty much "common sense" things that everybody knows–but many of us rarely practice them in our actual presentations due to nerves, grades, etc. Is there anything you'd add beyond what Mark discusses?
6 Responses to Nailing the group presentation
Subscribe to class via Email