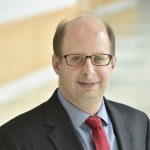 As we once again welcome back our students for the new academic year, I am proud of how the Temple MIS Department is thriving in these extraordinary times.
We welcome two new faculty to the department – Jason Thatcher and Leila Hosseini. Dr. Thatcher brings one of the most accomplished research records in the field to Temple, spanning topics including strategic alignment, workforce issues, cybersecurity, social media. Dr. Hosseini begins her academic career at Temple this semester, with a research focus on cloud computing and real-time digital advertising.
We also feature Professor Taha Havakhor, whose current work has public policy implications on cyber security incident reporting, the use of digital financial services, and the appropriate size of "big tech" companies.
Read about our new Digital Systems course and its innovative approach to introduce coding to all business school students. This new course is part of a multi-year MIS curriculum redesign, fully rolled out this Fall. We also profile Professor Amy Lavin, who recently swept "awards season" with three faculty-of-the-year teaching awards. Read about how her passion for teaching and her industry experience informs her approach to the classroom.
We also profile three of our successful alumni. Read about Ashneet Gurjal (BBA '11) and how he applies the technology and interpersonal skills he gained through Temple MIS in his career with Amazon Web Services. You will also meet MS in Digital Innovation in Marketing alumni Cynthia Dumont (MS '19) and Cliff Feiring (MS '19) and find out how they've used their degree to run their own digital marketing agencies.
I'm excited that another great year is underway!