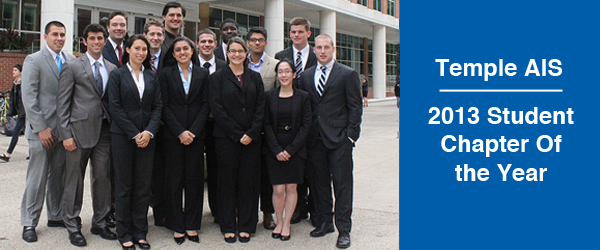 The Association for Information Systems (AIS) has named Temple AIS Chapter of the Year, the highest honor any student chapter can receive. And it's not just for the glory, either: with this distinction comes $1,000 in grant money, allocated for 2013 student initiatives.
Temple's first place win follows three years of having been named runner-up as Outstanding Chapter, and reflects incredible dedication from its student members. A committee of faculty and students oversaw this year's rigorous selection process, poring over annual reports to find the chapter with the most "exceptional, well-rounded, and organized program," notes AIS.
We have continued our legacy of offering our members the best in professional development and networking opportunities. Each one of my twenty officers has been working like crazy to make sure we pull all of this off seamlessly. It is a pretty awesome group of students. We have the most intelligent and creative students in the Fox School.

Josh Wise, Chapter President
Founded in 1994, AIS is the world's premier organization for academics specializing in Information Systems. The Chapter of the Year recipient must "lead the research, teaching, practice, and study of information systems worldwide," says the organization.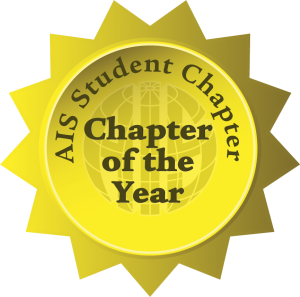 As its 2013 title indicates, Temple AIS set benchmarks for other chapters, fostering an environment in which its members could thrive in the field of IS and as a cohesive community. Chapter President Joshua Wise attributes much of his chapter's success to the group's unique personality and culture of "entrepreneurial spirit" — comprising a buoyant blend of teamwork, fun, and (friendly) competition. "We like to challenge each other and find new ways of doing things," notes Wise.
Among the chapter's banner accomplishments and offerings in 2012-2013:
Top placement in every category entered at last year's 2013 AIS Competition, hosted by Walmart in Bentonville, Arizona (Two 1st place finishes; one 2nd and one 3rd place ranking)
$5,000 in prize money invested in the Patriot Fund
Over 175 members, and a spike in meeting attendance (tracked via an attendance program coded by AIS officers)
Professional development and networking events with speakers from Comcast, NBC Universal, Cigna, Ernst and Young, AstraZeneca, and J.P. Morgan
Workshops every Friday and Saturday featuring technical training intensives
Well attended social events and community service initiatives, including $800 raised for CHOP and computer repair for non-profits
Current officers of AIS include: