Fifteen students from the Fox School's Association for Information Systems (AIS) student chapter recently traveled to Provo, Utah, where they participated in the first-ever international AIS student chapter competition and earned first or second place in each of the categories they entered. The event included approximately 150 participants from 24 schools.
AIS is the premier global organization for information systems. The Fox School's AIS chapter was the first student chapter in the world and was named a 2010 and 2011 Outstanding Chapter. This April, four teams of students advanced to the AIS competition finals in three categories: Mobile App, IT Video and IT Risk. Three of the four teams came out on top and earned international recognition with first- and second-place wins during the annual AIS student leadership conference.
Fox's Mobile App team, which developed Sutify – an app to manage users' professional wardrobes – and the IT Video team, which produced a video promoting IT as a career choice, won first place in their respective categories. One of the two IT Risk teams won second place in the IT Risk category for a detailed case study.
I have to say they were dominant in every facet of the conference
E. Carey O'Donnell, AIS chapter faculty advisor, Assistant Professor.
In addition to making it to the finals in Utah and winning first and second place in their target categories, Temple's AIS students also presented at two sessions during the conference, held in conjunction with the competition. One of the presenters was Michelle Dy-Reyes, outgoing president of Temple AIS.
The recent AIS student chapter competition awards were a direct reflection of the drive, talent and competitive spirit of our AIS chapter here at Temple. We have been able to cultivate critical thinkers with keen eyes for award-winning technology solutions.
Michelle Dy-Reyes, AIS President
Students were able to network with leading executives, including the chief information officer of Walmart, Karenann Terrel, who mentioned the Fox students in her conference speech. The students also attracted attention and praise from AIS Executive Director Pete Tinsley.
Winning awards in three out of the four competitions makes the chapter one of the most decorated this year. Temple continues to be a shining example of an outstanding AIS student chapter of which others should strive to emulate.
Pete Tinsley, AIS Executive Director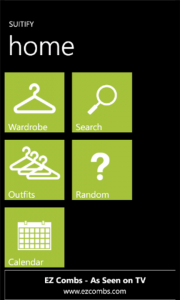 For the Mobile App team, this competition was a tremendous boost to the recognition they have received since launching Suitify. The app, which allows users to store their wardrobe options, save outfits and plan clothing choices in a calendar format, has been approved for display in the Windows Phone marketplace. To date it has received an average 4.8 out of 5 rating. The app's first-place win at the AIS competition was attributed, in part, to the group's strong business model and projected success. 
We have plans to continue developing the app, to finish fleshing out our business model of saving users' wardrobe data and implementing a clothing suggestion feature.
Andy Roche, Suitify team member
In terms of national prominence, this competition was the Fox School AIS chapter's biggest success yet, and the students are eager to continue competing, O'Donnell said. The winning Fox School AIS teams were: