Facebook Introduces Riff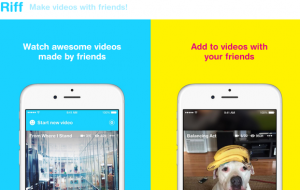 In an attempt to make videos "stickier" on social media, Facebook recently debuted its own video app called Riff. This Forbes article details the app and the logic behind it.
The way the app works is that users post 20 second videos, and then their friends can also post videos that can then be added on to the original video. When a user signs up for the app with their Facebook account, they can start making videos instantly, and their friends will receive notifications when their friends create videos. These videos will be connected by a common hashtag, thus creating a sort of video story that can be shared across various social media sites. The idea behind the app is that it makes the creative process more fun, by allowing users to collaborate with their friends.
A Facebook algorithm showed that at this time, videos take up approximately 30% of the average user's newsfeed. This trend is what propelled the creation of Riff, which Facebook hopes will continue the trend.
What are your thoughts on the app? Do you think it can stand up to Vine and Snapchat stories, or do you think it'll be soon forgotten? Would you use it?
3 Responses to Facebook Introduces Riff
Subscribe to class via Email