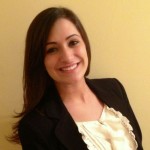 Jessica Cracchiolo
Disruptive technological change is changing constantly and changing the way we live and do business. According to Forbes, "we've seen more technical innovation in the past three to four years than we saw in the previous 50." In a few years almost anything you can think of is going to be accessed through the internet. Eventually there will be an ingestibles where you can swallow  to track your biometrics and send the data directly to your smartphone and maybe even your physician. Forbes stated, "n the not-so-distant future, your doctor will be able to tell you, 'I think you may have a heart attack coming. Let's get on top of this now.' That may creep some of you out, which is another challenge. People are going to have to decide if they're comfortable with some of the things technology will be able to do. Younger generations are likely to accept these technologies faster than those of us who are older." The article uses autonomous vehicles as an example for future disruptive technology. They also talk about technology changing our careers and possibly depending on the career path it can be gone.
Do you think technology will change our lifestyle 10 years from now? How do you think technology will affect our careers?
http://www.forbes.com/sites/northwesternmutual/2015/04/01/disruptive-change-are-you-ready/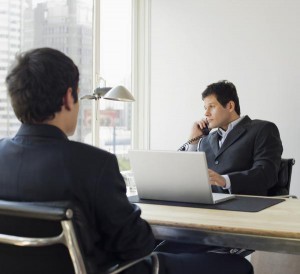 I read an article in Forbes that talks about 9 things you should tell your boss at your next performance review. Forbes asked 9 entrepreneurs from the Young Entrepreneur Council what they wish their employees would tell them at their next performance review. 
1) What makes you happy
2) How you want to grow
3) What you would like to work on
4) How you picture the future
5) How do you want to contribute to the company's success
6) What you need to do for your best work
7) Which new technologies would work a lot better
8) What you want your boss to stop doing
9) What is not working, and how to make it better
These questions will help you in your next performance review with your boss and it shows you are dedicated to the success of the company and it also shows you are a dedicated employee. These questions will also help your boss become a better leader.
What do you think about this article and these questions? Do you think these questions should be answered by your boss after you have been with the company for a couple of years?
http://www.forbes.com/sites/dailymuse/2014/03/12/9-things-you-should-tell-your-boss-at-your-next-performance-review/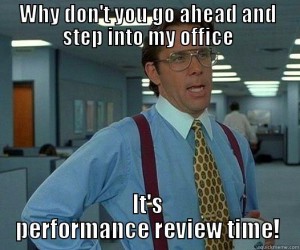 According to The Washing Post, "Research shown to be ineffective, unreliable and unsatisfactory for seemingly everyone involved. They consume way too much time, leave most workers deflated and feel increasingly out of step with reality." 
Deloitte has redesigned its whole performance management plan and how it will evaluate its employees. Deloitte's is getting rid of nonsensical attempts to build similar goals for everyone in the organization. The company also noticed they were spending two million hours each year assigning numerical ratings to each employee so they got rid of that too.
Overall, Deloitte is replacing its old performance system with four engaging questions they are asking managers to look at instead. Washing Post stated, "At the end of every project, or once a quarter if employees have long-term assignments, managers would answer four simple questions — and only four. The first two are answered on a five-point scale, from "strongly agree" to "strongly disagree;" the second two have yes or no options:"
1. Given what I know of this person's performance, and if it were my money, I would award this person the highest possible compensation increase and bonus. 
2. Given what I know of this person's performance, I would always want him or her on my team.
3. This person is at risk for low performance.
4. This person is ready for promotion today.
This new performance allows how to develop employees in the future based on their performance.
Based on this article/post, do you think organizations should start following this new approach? Would you prefer to be evaluated on these questions or have a standard performance evaluation review? Why?
http://www.washingtonpost.com/blogs/on-leadership/wp/2015/03/17/deloitte-ditches-performance-rankings-and-instead-will-ask-four-simple-questions/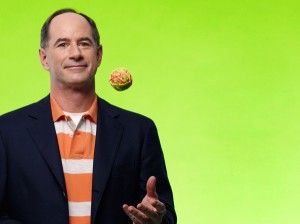 http://rogerlmartin.com/thought-pillars/integrative-thinking
Roger Martin coined the word "integrative thinking" when he observed in his multiyear study of exceptional successful leaders. He found a consistent pattern to the leaders thinking approach when they were faced with challenging choices. In 2007, Roger published a book called The Opposable Mind: How Successful Leaders Win Through Integrative Thinking. The book describes the components of Integrative Thinking and provides a guide for those who want to manage their own Integrative Thinking capacity. Roger states, "Many people assume that Integrative Thinking is a skill which one must be born to demonstrate. This is definitively not the case! It is clear from this teaching experience that anyone who is willing to work at Integrative Thinking can develop the thinking pattern exhibited by the highly successful leaders that I studied." I agree with Rogers statement because not every successful leader is born with every skill set to make them successful. 
Do you think integrative thinking is an easy skill to learn? How much time do you think you need to put into learning the skill set of an integrative thinker?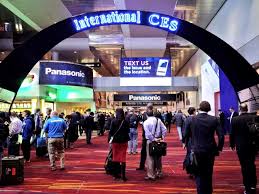 http://www.forbes.com/sites/bigbangdisruption/2015/01/09/the-five-most-disruptive-innovations-at-ces-2015/
This year was the Consumer Electronics Show 2015 (CES) filled with big bang disruptors. There were disruptors from incumbents and start-ups with the likelihood to cause big changes. The five most disruptive innovations were:
1) Transportation – Autonomous Vehicles
2) Health and Fitness – The Quantified Self
3) Manufacturing – 3D Printing and Robotics
4) The Internet of Things
5) Augmented Reality
I found this article very interesting because the top five most disruptive innovations at the CES were covered in our class through our case analysis. Two of the five disruptive innovations I found amusing were the autonomous vehicle and 3D printing. I would have never thought in a million years we would have a self-driving car. When I listened to the presentation in class I was very fascinated with the information. My case analysis was on 3D printing which I also thought was interesting because I never knew much about the product. After reading this article, I learned a lot more about 3D printing and the new features. If technology is this advanced in 2015, I can only imagine how advanced technology will be 30 years from now.
The disruptive innovations at the CES fall in the "early market experiment stage of big bang disruptions." According to Forbes, "Some–perhaps most of them–will never make it to mainstream success.  But even those that don't succeed send a strong signal to incumbents of imminent disruption when some entrepreneur hits on the right combination of new technologies and business models." 
What are your thoughts on this years Consumer Electronic Show? Do you think the innovations listed in this article and what we discussed in class will make it to mainstream success? Why or why not?
Last week we briefly talked about Amazon Web Services (AWS) which is a collection of remote computing services that make up a cloud computing platform by Amazon.com. I came across an article that talks about cloud computing being the future because most people and business use cloud computing. Cloud computing is cheap, fast, and easy to maintain. As technology is evolving and becoming a lot more popular, there may be security risks associated with cloud computing. There was a survey done that showed 80% of people were skeptical about cloud computing due to security concerns. According to the article "Amazon Web Services is a prominent cloud computing provider in the industry. The department is the fastest growing department of Amazon. However, in Oct. 2012, services failed for a while." As cloud computing becomes more and more popular, experts are going to have to address security issues.
Do you think cloud computing can be high risk when it comes to security? Why or why not? Do you think people and business will still use cloud computing if security concerns increase? Why?
http://www.techtimes.com/articles/8449/20140615/cloud-computing-is-the-future-but-not-if-security-problems-persist.htm
On Thursday we briefly talked about Uber's business model. I find Uber an interesting and smart start up that is becoming very popular. I came across an article that talks about the "Uberization of work may soon be coming to your chosen profession." a range of companies are trying follow Uber's business model in order fields from grocery shopping, legal services, to even medicine. The benefit of Uberization is that technology can make your work life more flexible because it will allow you to fit multiple jobs around your schedule. An economist at the University of California stated, "this on-demand economy means a work life that is unpredictable, doesn't pay very well and is terribly insecure." Most people would rather have good, well-paying, regular jobs. Uber is a growing company and there are always new opportunities for employment.
What do you think about Uber's business model? Do you think other fields that follow this business model will be successful? Would you want to work for a company like Uber? Why or why not?
http://www.nytimes.com/2015/01/29/technology/personaltech/uber-a-rising-business-model.html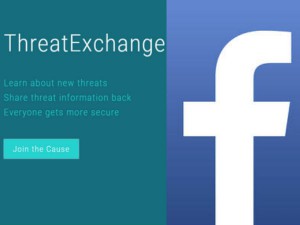 Facebook launched "ThreatExchange" which is an Application Programming Interface (API) that allows companies to share information with each other about cyber attacks. A few companies including Facebook were demanding to stop a bonnet that was abusing their services to send spam. A manager of the Threat Infrastructure team at Facebook stated, "We quickly learned that sharing with one another was key to beating the botnet because parts of it were hosted on our respective services and none of us had the complete picture." ThreatExchange is built on Facebook's infrastructure and the information includes domain names, malware samples, and other indicators of compromise. The platform allows companies to share certain information that share similar issues. The goal of this platform is for organizations to learn from each other and make their systems safer. "That's the beauty of working together on security. When one company gets stronger, so do the rest of us."
Do you think ThreatExchange is a good way for companies to share their information regarding systems and hacking? Do you think only social media sites are going to use this platform? Or do you think other industries will also use this platform? Why?
http://www.cio.com/article/2883034/facebook-builds-platform-for-companies-to-share-cybersecurity-threat-data.html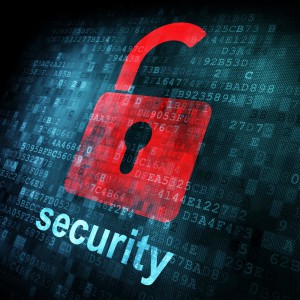 Information security is very important especially in an organization. I found this article very interesting because it discussed how many CIO's are worried a major cyber attack may happen. According to Masserini,"Every day CISOs wake up and worry, 'is today going to be THE Day?" It's not about when they are going to get attacked but more of 'when' they are going to see something dramatic happen to their organization. The article also stated that security never ends, it's an ongoing cycle.
How do you feel about Information security? Do you think its something thats going to get better or worse in the future?
http://www.forbes.com/sites/sungardas/2015/02/05/why-information-security-is-everybodys-business-now/?sr_source=lift_polar
An article I recently read discussed how many professionals in corporate America fear of presenting that they are desperate to avoid it. According to the article, "Poor presentation skills mean that leaders fail to inspire their teams, products fail to sell, entrepreneurs fail to attract funding, and careers fail to soar. That seems like a big price to pay for neglecting such a basic skill that anyone can improve upon." Practicing makes perfect and a good way to practice is to watch great presentations such as "TED talk." 
Not only students fear of giving presentations but also professionals in corporate America. What are other suggestions to practice giving a better presentation? How important do you think presentations really are in the "real world?"
http://www.forbes.com/sites/carminegallo/2014/09/25/new-survey-70-percent-say-presentation-skills-critical-for-career-success/
Subscribe to class via Email