Fox MIS students have access to the latest and most exciting new technologies. Temple was recognized by The Princeton Review as one of the premier technology campuses in the U.S. The Fox school is housed in the brand new state-of-art Alter Hall, and the MIS department provides students access to exclusive technologies and labs.   
TEMPLE UNIVERSITY TECHNOLOGY RESOURCES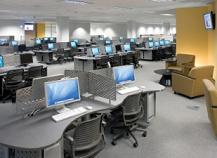 The TECH Center is a state-of-the-art technology facility that includes collaborative and individual student workspaces, it is the largest of its kind in the U.S. The center enables students to meet, study, collaborate, relax, and take advantage of 700+ computers, specialty labs for video and audio, loaner laptops, breakout rooms, 24 hour help desk, and Starbucks coffee. Take the Tech Center virtual quick tour to learn more. 
Fox MIS students have access to the excellent resources provided by Temple University's Computer Services division which include Google Mail, Google Docs, Google sites, a virtual backpack, online library and housing resources, online registration and course scheduling, a campus wide "smart card" system, campus wide wireless access, free online training through lynda.com, and classroom capture and video conferencing facilities.   
FOX SCHOOL AND ALTER HALL TECHNOLOGY RESOURCES
Fox MIS students take their classes in Alter Hall, a new high-tech building which includes the latest classroom technology including dual projectors and class capture (review a class session later over the web). There are email stations in common areas, and breakout-style meeting spaces with computers and large plasma screens. A wireless network covers the entire building, including the lounge spaces, and provides wireless printing.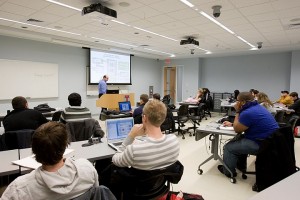 FOX MIS TECHNOLOGY RESOURCES
Fox MIS students have exclusive access to the following leading edge technologies:
Specialized computer teaching labs which feature dual projectors and mobile tables and chairs to enable collaboration and group work.
A ground breaking multi-purpose facility in which students and faculty wirelessly project from upto 12 different computers simultaneously; the images are stitched together to create a seamless "wall" of information. Mobile reconfigurable furniture allows the space to morph from a seminar room to a breakout room to a training lab to a presentation and event space in a few minutes. See the detailed feature article and short video below. ProjectorCentral – has featured our facility as an example of innovation and low cost, and College Planning & Management Magazine also features the facility in an article titled Furnishing for Connection.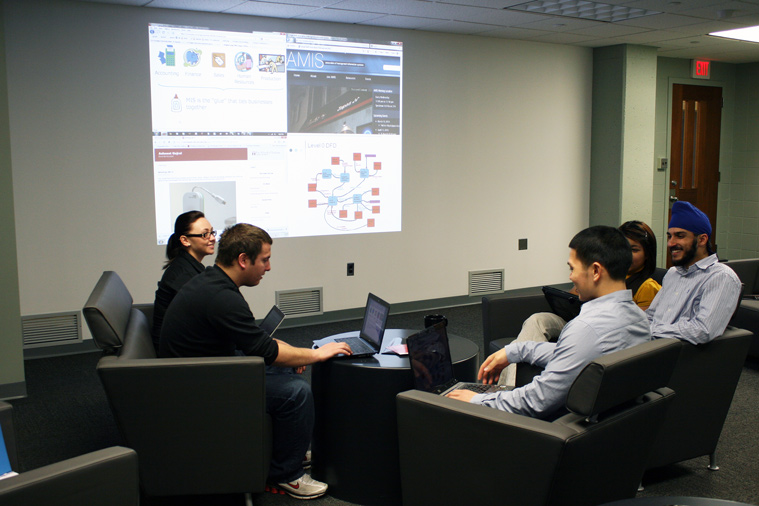 A new lounge space funded by MIS alumni and friends, in which students can simultaneously connect laptops wirelessly to the room's projector to share ideas and images.
Access to the Microsoft Developer's Network Academic Alliance and the Oracle Academic Initiative, which provides software for student use at home and in labs.
The Fox MIS community is an open source social media and Web 2.0 site that is fundamentally transforming how students, alumni, faculty, staff, and our industry partners interact with each other. Every member of the community is a content generator and manager; students create and manage their "e-portfolios", publish their projects online, and form connections and social spaces, faculty manage coursework on web pages that encourage interaction and link courses together, and in this dynamic environment, the complete extended Fox MIS community can see and comment on every activity.