The FOX MIS community platform enables social education – a concept that integrates learning, teaching, professional development, placement, and administration and socialization by applying open source social media and Web 2.0 concepts.
The concept and associated technologies is fundamentally transforming how students, alumni, faculty, staff, and our industry partners interact with each other. Every member of the community is a content generator and manager; students create and manage their "e-portfolios", publish their projects online, and form connections and social spaces, faculty manage coursework on web pages that encourage interaction and link courses together, and in this dynamic environment, the complete extended Fox MIS community can see and comment on every activity.
To learn more:
Key, Peter. Badges, We, uh, maybe we do need badges after all. Philadelphia Business Journal,  July 26, 2013. (click here…)
Making Education Social: The FoxMIS Community Site, David Schuff and Munir Mandviwalla, May 2012 (click here…)
Re-imagining the role of technology in higher education, Munir Mandviwalla and Manoj Chacko, December 2010 (see below)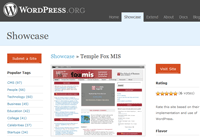 Our ground breaking site is showcased at the main WordPress.org site. Take a look and make sure you leave a rating.
The Fox MIS community site project will integrate:
institutional content management (e.g., websites and portals)
individual content management (e.g., home pages, list of publications, blogs, e-portfolio's)
course management (e.g., Blackboard)
social networking (e.g., Facebook, Twitter)
Community.mis.temple.edu will serve as a living laboratory as we investigate and implement answers to the following questions:
how can academic units easily disseminate information?
how can academic units manage information to ensure quality and consistency?
how does the individual easily disseminate information about themselves
how does individual information integrate with institutional information?
what is a course? Does the course metaphor change in the online space?
which academic boundaries make sense? Which ones should be discarded?
how can academic units – courses – faculty – students span boundaries and link within and outside their unit?
how can you increase the interaction among the internal and external stakeholders of academic units?
how do you create and sustain a knowledge centric community?
what is an "academic community" going forward?
We believe the answer to these questions lies in the following vision of technology use in higher education:
Social Architecture
Students author sites to manage their digital identity using an e-portfolio.
Faculty and staff author course and research sites.
Courses are organized to encourage interaction within and across the curriculum.
Content is RSS-enabled, aggregated, and shared inside and outside the community.
A social hub, in which the community can see and comment on every activity.
All members have a profile and an activity stream to provide updates on interests and achievements.
Technical Architecture
WordPress with BuddyPress.
Custom themes and functions for e-portfolios and courses (Artisteer and Genesis Framework by StudioPress)
Custom plugins (e.g., Gradebook, e-portfolio, e-portfolio search, Digital Badges, Points Management, Leaderboard)
Team members
Matt Dampf, Anthony Bubel, Steven Johnson, Ilya Rogov, Sunil Wattal, Manu Phatak, and Lorne Olfman have contributed ideas and time to the development of the vision above. We are also grateful to Sheri Stahler, Paul Smith, Ramana Chamarty, and Tim O'Rourke of Temple University Computer Services for their support.