playstation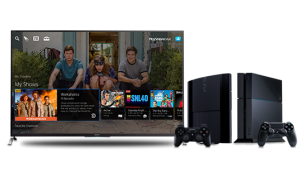 PlayStation Vue Review: A Real Rival to Cable TV…For a Price – WSJ
Sony presents PlayStation Vue that allow the uses to stream live TV and DVR in the cloud.  It is hard to really determine where Sony was going with this new idea seeing how it can touch so many companies and markets.
What market do you see this disruption falling under? Why?
With the price being so high I do not see how it would be able to push TiVo out of the picture, but it is the first real internet service to threaten cable TV. Vue allows you to also DVR to the cloud which means no more worrying about running out of storage. Pretty awesome innovation, and will be interested to see how PlayStation hones in on the application, price, and easy of use.
As confirmed in this article, Sony has announced that it is shutting down its PlayStation Mobile service; this happened just ONE DAY after I recommended in my presentation last Tuesday that Sony use the service as part of its strategy to protect itself against new entrants such as OnLive that are attempting to disrupt the market. Launched in October 2012, the service will officially end on July 15, culminating in a mere existence of 2 years and 9 months (for those who weren't in class for my presentation, PlayStation Mobile was basically a framework for an "app store" that hosted exclusive games and other content that catered to indie developers). A listing here shows that the service was compatible with 72 devices, including the PlayStation Vita and PlayStation TV, taking full advantage of the "Internet of Things", or IoT. Yet, with such a broad range of compatibly and a strong brand name, the service was ultimately known for poor developer support, a weak game library, and a small user base.
In light of this failure by an established incumbent but the continued success of other services that take advantage of IoT devices (such as iOS, Android, and Valve's Steam) and a wave of new entrants (such as OnLive, as from my presentation, and Nvidia's Shield, as posted by James Brunetto), what do you think a company needs to do in order to achieve success and stay relevant with a service that is meant to be compatible on a wide range of popular devices? Was PlayStation Mobile not innovative enough? And what features would a service like this in the gaming industry need in order to truly be considered disruptive?
Subscribe to class via Email