organizational structure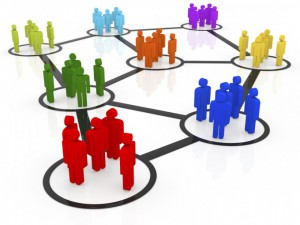 Earlier this week someone posted an article about why CIOs can't sell enterprise collaboration tools and today I saw an article where IT leaders gave tips on how to drive enterprise collaboration and ensure its success. The IT leaders said the most common reason for CIOs having difficulty with enterprise collaboration is that they pursue solutions to problems that don't exist.
Some of the tips given in the article included getting insight from employees and making sure they are invested in the selection process. They also said to CIOs should look for collaboration tools that require little training it will generally be adopted faster by more employees. Some IT leaders said gamification was the key to adoption because it provides incentives for employees to use the new collaboration tools. Other IT leaders said they use "the art of seduction" by creating collaborative tools that the user clearly sees as superior to previous tools or practices. Therefore, there is no need to drive adoption because users are already willing to adopt to a better solution.
Which tip do you think is most important in driving enterprise collaboration? In your internship or work experience, how have IT leaders tried to drive enterprise collaboration? Did it work?
Hospitals have never promoted a technology forward environment. Is it time for a change? I say yes. With the rise of consumer knowledge through social media, consumers can easily search around for the best price and products. This is no different when it comes to dealing with a hospital. Old IT systems in hospitals today are outdated and lack innovation. We've heard some ideas of disruptive innovations when it comes to hospitals in class, but what could a hospital gain from changing its systems to be more productive? What type of changes do you feel would be too drastic that the healthcare industry may not need?
http://www.forbes.com/sites/athenahealth/2015/04/13/why-its-time-to-rethink-your-hospitals-technology/

Atish Banerjea, CIO at NBCUniversal, talks about his experience in improving IT's image and performance at NBCUniversal.  Banerjea states that IT just played a back office role at NBCUniversal.  His goal was to move IT from the back office into business unit leadership.  The first hurdle was the lack of investment for IT.  Banerjea was able to gain support from Comcast, who recently acquired NBCU.  Comcast gave capital to allow IT to invest in infrastructure and IT talent.  He decided to make improvements where employees would notice changes.  This included increasing email capacity, upgrading mobile and desktop devices, and improving the help desk.  The most important move that Banerjea did was embedding CIO's into the business units.  This has allowed IT to create support for business units, and offer value from a business perspective.
Do you think embedding CIOs into business units is a good model or do you think they should be a separate entity?
What else do you think Banerja could do to improve IT at NBCUniversal?
http://www.cio.com/article/2421759/business-analytics/new-model-reinvents-how-it-gets-funded.html
Instead of having a chargeback model for organizations with IT as Engine Room, do you think it is better for all organizations not in the IT is the Business or Everyone's IT spectrum to move towards the IT as Global Service Provider that the article suggests?
The CIO Executive Board believes that the best model is the one where IT operations are broken into 12 to 24 business services and assigning costs to each one. This is very similar to how IT as Global Service Provider works as it offers a limited menu of services and avoids the tedious line item cost accounting that chargebacks require. Additionally, instead of using IT terms, the IT department would use business terms so there is no confusion on the part of the business units. The business units may not understand what it means when IT tells them they've used X amount of network bandwidth, but they will understand when they're billed for videoconferencing.
Another question I have relates to IT as Global Service Provider. We've discussed this IT structure at length but has anyone worked at a company that's actually modeled this way? If so, how was it?
5 disaster-planning steps article
Today we talked about how many companies that had data centers in the World Trade Center survived 9/11. With so much talk about continuity plans in MIS 2501, it shocked me to see that zero companies were still in business a short 5 years later. When touring the data center here at Temple, just being in the atmosphere of the servers made me feel how important they are to the structure of Temple.  How could a CEO in a multi-million dollar company not be worried about data being destroyed if the business revolves around it?  It makes me wonder how a company could be so careless to not plan for the future so tediously.
This article by InsuranceNewsNet.com asks  it's readers, "Could your business bounce back if a disaster occurred?" They explain the 5 steps every small business should go through when planning for a disaster.
1. Consider all possible risks
2. Commercial property and casualty insurance
3. Survey your systems
4. Take your first steps now
5. Create a business continuity plan
These are all steps we have heard before, which steps do you feel are the most important?
If you could add or delete steps off this list what would they be and why?
This article about managing IT projects features an interview with Joe Spagnoletti, CIO of Campbell Soup Company. Spangoletti discuses how he approaches the responsibilities of IT projects and who is accountable for the result.  He states that Campbell Soup is moving from an order taking model to a demand driving model.  This new model empowers business managers to have more say in IT investments and the IT project portfolio.  This means that IT employees work closer with the business side of the company to have a better understanding of the business manager's desired impact of the project.  There are some negatives with this model.  The first is determining who owns the decisions. It can be ambiguous who is responsible when an IT employee proposes an idea and the business employee accepts the plan.  Another negative is that IT can face more scrutiny under this model.  There is more transparency with IT costs and how much value is actually achieved.  This puts IT under a magnifying glass and which can seem threatening to the department.   Spagnoletti echoes one of the most important concepts of our class: IT decisions need to align with the business strategy.  When IT works alone, the business does not get what it needs.
Where would we fall in this business/IT interaction? Would we be middlemen? How can companies face some of the downsides to this model?
Cisco Systems, Inc. (CSCO): Firms Should Also Focus On Employees For Cyber Security
Billions spent on cyber security and much of it 'wasted'
I found this article from last month in which Terry Greer-King, Cisco's director of security, said that the focus on IT security should be people. This contrasts from the common notion that not enough money is spent on effective security. This also contrasts the common belief among businesses that IT functions should be left to just IT. I completely agree with Greer-King. IT security cannot be left to just IT; everyone needs to know how to keep their devices secure. All it takes it one compromised device for an entire system to be compromised. Last year, $49.8 billion was spent on cyber security (referenced from the second article), so the infrastructure is certainly in place. But if there aren't enough competent people to utilize the technology, then security will continue to be a major issue.
What do you guys think is the most important factor of IT security? Do you agree with Terry Greer-King that employees need to be better trained, or that better security technology needs to be in place? Are there any factors to this that you feel are missing or lacking?
A good organizational structure allows an organization to thrive in many ways. Having a good organizational structure, allows the company to identify additional talent needed to take on any additional projects and to meet project deadlines. Since a good organizational structure ensures that the right people are in the right places, it allows for the company to be more efficient and put its best foot forward. Roles and job descriptions are clearly defined, which eliminates confusion as well as redundancy. This helps for goals to be achieved and helps with job coordination. Having a chain of command in place, allows for information to be passed more efficiently. These are some of the many benefits of having a good organization structure.
What other advantages do organizations reap from having a good organizational structure? Are there any disadvantages?
http://smallbusiness.chron.com/importance-good-organizational-structure-3792.html
Subscribe to class via Email